LatinAmericanCupid became one of the initial dating apps with an emphasis only on helping its users connect with attractive Hispanic women. The dating app has a lot of clout in the online dating biz since it's part of the wildly popular Cupid network! The key issue is whether or not you should sign up for this niche dating app.
---
---

Our team has independently researched all products and services that we have listed on this page. If you sign up or purchase through our links, we may receive a commission. See how it works.
Introduction to LatinAmericanCupid
In our in-depth review of the well-established online dating app, we'll be looking at its features, premium membership features, functionality, and all other aspects of the Cupid Network's specialty dating platform. You can learn everything you'll need to know about the LatinAmericanCupid dating app and see if it is the right one for you by scrolling down!
A Brief Overview of LatinAmericanCupid's History and Success
The popular Cupid Media network oversees more than 30 specialized dating apps, including LatinAmericanCupid, which first went live in 2003. By matching eligible singles worldwide, this dating app brings entire nations to the touch of your finger.
LatinAmericanCupid's Unique Approach to Online Dating
More than 1,500 people are using LatinAmericanCupid at any given time, and the number of profiles returned is pretty impressive! Members can use the more advanced search options on LatinAmericanCupid to narrow their results by gender, age, nationality, location, or even distance! And if you're a male user, you can filter your homepage for just female profiles.
Is Signing Up for LatinAmericanCupid Worth It?
Signing up for LatinAmericanCupid is worth it, especially if you are specifically searching for a LatinX partner! They do a great job of pairing up compatible matches–especially for a smaller niche dating platform. And as long as you are okay with a long-distance relationship, as you may meet your perfect partner and they reside in a different country, this is definitely the app for you!
Our Ratings
We got a fair sense of the LatinAmericanCupid dating app and played with several of its features without upgrading to a paid subscription. We rate dating apps based on a number of factors, including the number of monthly active users, the quality of matches, the cost of a premium subscription, and the app's user-friendliness. You can see how we got at our final rating for LatinAmericanCupid and individual ratings in the following table.
Overall:
| Category | Score |
| --- | --- |
| Features | 4.0 |
| Ease of Use | 4.0 |
| Match Quality | 4.0 |
| Cost | 4.0 |
| Active User Base | 4.5 |
| Overall | 4.0 |
What We Like
We like a lot of what we see when it comes to this dating app–we've listed some standouts below!
Since there is just an Android app and this particular reviewer uses an Apple device, we signed up for LatinAmericanCupid utilizing an internet browser. We found the entire process to be quick and simple. The app's features are identical to those of the web interface to guarantee compatibility with other programs, which we like since anybody can use it anytime they want via the web browser on an iOS or any other mobile device.
The LatinAmericanCupid dating app supports many languages, making it accessible to a massive user base, which we love!
According to our research, LatinAmericanCupid is one of the most active dating apps out there for Latino singles, which is a tick on the pro column if we've ever seen one.
And last but not least, we love the message translation feature! To communicate with individuals of different ethnicities and backgrounds, you need to be able to understand their language, and instant translation into your original language makes this possible. Remember that to enjoy this outstanding feature, you will need to subscribe to a Platinum membership.
What We Don't Like
Now that we've covered what we like about LatinAmericanCupid, there are a few things that could be improved upon. We aren't saying these are deal-breakers for people considering joining, but they need to be considered with the overall picture.
We can't hold a smaller dating pool against them since it's an international dating specialty app, but if you're looking to connect with people in your immediate area, you ought to keep this in mind.
We do not like that users have to pay in order to communicate with other users. Standard users can only respond to messages sent by premium members; they cannot initiate new communications of their own. To get access to all users, you must subscribe to either a Gold or Platinum Membership.
Many LatinAmericanCupid dating apps' male users have reported that users on the platform use stolen images of women to trick their matches into handing over money.
Who Is LatinAmericanCupid Best For?
The dating app advertises itself as being devoted to the cause of finding the ideal love partner for its users. Those from Mexico, Dominican Republic, Puerto Rico, Colombia, Argentina, Ecuador, Brazil, Venezuela, Peru, Costa Rica, Chile, and Cuba interested in meeting other single Latin Americans are strongly encouraged to sign up.
Despite its initial focus on the Hispanic community, it has now attracted users from different countries where English is the predominant language. The app is for individuals of Latin American descent who are searching for long-term partnerships, as well as for non-Latinx foreigners who are interested in meeting eligible singles who live in South America.
Demographics and User Base
LatinAmericanCupid's membership Pool is around 180,000, with 40,000 users from the U.S. and the average age of the LatinAmericanCupid Dating App is between 25-34, and the gender ratio breaks down to 30% men to 70% women.
Relationship Types Best Served by LatinAmericanCupid
Most LatinAmericanCupid dating app users are looking for long-term relationships and committed partnerships.
The LatinAmericanCupid Compatibility Matching System
There is no sophisticated compatibility matching algorithm for standard users on LatinAmericanCupid–users are matched with other singles by their personal preferences and search filters they've indicated when filling out their dating profiles. The search filters can always be updated or tweaked based on location and other factors.
If you are a premium member, you have access to a matching algorithm feature, and we've detailed that function below!
How the Compatibility Matching System Works
When you upgrade to a premium membership, you have access to advanced mutual and reverse matching algorithms which will greatly aid in your search for a compatible partner beyond the regular search filters and preferences!
LatinAmericanCupid's Communication Features
Connecting with other singles on LatinAmericanCupid can be done in several ways, and finding other eligible singles to interact with is easy to do. A user's member ID, shown on each member's profile page, can be used to narrow down your search results.
When you want to locate a particular member who has attracted your attention, the member ID is extremely helpful! And on the flip side, regarding users with whom you don't want to interact, LatinAmericanCupid's "Message Filter" feature enables you to block unwanted communications.
Guided Communication
Basic free users are restricted in their ability to communicate with one another through the app's messaging system and can only send messages to premium members. Members who have upgraded to premium status will be indicated by a green checkmark in their member profiles.
But there are a few other methods to reach out to other users, such as showing interest or adding a user to your favorites.
LatinAmericanCupid's Membership Options
LatinAmericanCupid has a variety of membership options available to its users ranging from directions of one week to a full year! When comparing it to other dating apps that provide the same benefits and security measures, the platform is quite reasonable.
You can personalize your membership to meet your budget by choosing from one of three premium membership tiers: Gold, Platinum, or Diamond. By paying for a membership in advance, you can even drastically decrease your costs.
Free vs. Paid Memberships
We've all been duped by the "free tryout" that asks for a debit or credit card number and hide the details regarding automatic renewals in the fine print. After that, you see that your bank account balance is less than it should be because you are still being charged for something you no longer use!
In a shocking twist in the dating app world, LatinAmericanCupid's free tryout period is really free. The free version of the dating app does not need a credit card and can be used indefinitely.
While we think the paid features on LatinAmericanCupid are worth it, we also recognize the value that the free edition provides to many potential customers. If this sounds like you, you'll love LatinAmericanCupid's free version!
Free Features
Create a profile
Upload profile photos
View who's online
Browse and search profiles
View basic profiles
Display interest in other profiles
Add profiles to your "Favorites" list
Basic matching
Message with premium members
Premium Membership Benefits and Pricing
Three distinct types of membership plans are available to LatinAmericanCupid subscribers. A few basic features are available for free, but the subscription version unlocks many advanced capabilities that are well worth the price. Gold, Platinum, and Diamond members have different privileges, the most notable of which is the ability to translate messages between languages.
Only on LatinAmericanCupid can a premium membership be paid for over the course of four equal monthly installments, a unique feature among dating apps. It's not uncommon for online dating apps to request payment in full before connecting users.
Gold Plans
| Membership Plan | Cost Per Month | Total Cost |
| --- | --- | --- |
| 1 Week Membership | $16.87 (one week) | $16.87 |
| 1 Month Membership | $33.74 | $33.74 |
| 3 Month Membership | $22.49 | $67.48 |
| 12 Month Membership | $11.25 | $134.99 |
Platinum Plans
| Membership Plan | Cost Per Month | Total Cost |
| --- | --- | --- |
| 1 Week Membership | $20.00 (one week) | $20.00 |
| 1 Month Membership | $39.99 | $39.99 |
| 3 Month Membership | $26.66 | $79.98 |
| 12 Month Membership | $14.17 | $169.99 |
Diamond Plans
| Membership Plan | Cost Per Month | Total Cost |
| --- | --- | --- |
| 1 Week Membership | $40.00 (one week) | $40.00 |
| 1 Month Membership | $79.98 | $79.98 |
| 3 Month Membership | $53.32 | $159.97 |
| 12 Month Membership | $28.33 | $339.98 |
Premium Features
Message Filters – You can filter undesired messages sent to you by other users using this feature. These messages are immediately stored within the filtered folder after being read!
Search Anonymously – Premium members have the ability to easily hide their profiles and images from the eyes of other users.
CupidTag – This unique feature allows you to include (in your profile) words that best characterize you. Members can discover you in the results of their searches if they use a tag you have used! We love this cutesy Cupid Network feature the most.
VIP Profile Highlighting – The unique Diamond symbol on your profile will let potential suitors know you mean business when it comes to online dating–everyone will know that you have upgraded to a premium membership.
Mutual and Reverse Matching Algorithms – Gaining access to special mutual and reverse matching algorithms will make finding the right partner much easier for you.
Automatic Translation – The dating app's auto-translation is available to Platinum users, allowing them to engage with more people by removing a language barrier in their conversations. This is excellent for those who want to meet people from different countries but whose native language is not spoken there.
Double the Profile Space – Platinum members, in addition, have twice as much space for their profiles, which enables them to put together a profile that does a better job of showcasing who they are and what they have to offer.
FYI: Your premium membership subscription will be renewed automatically; however, users can discontinue this at any time. If you haven't canceled the subscription, it will be automatically renewed for the same exact plan you were previously subscribed to–you can cancel this by following the directions in the website's "Help" section.
Creating Your LatinAmericanCupid Profile
LatinAmericanCupid is an easy signup process that takes just over five minutes. You can sign up by completing a few sections, which include an email address, first name, a password of your choosing, your gender, and your date of birth.
We signed up using the website's browser as there is no iOS mobile app, but if you have an Android phone, you can simply download the dating app and create your profile there.
Step 1: Visit LatinAmericanCupid's Homepage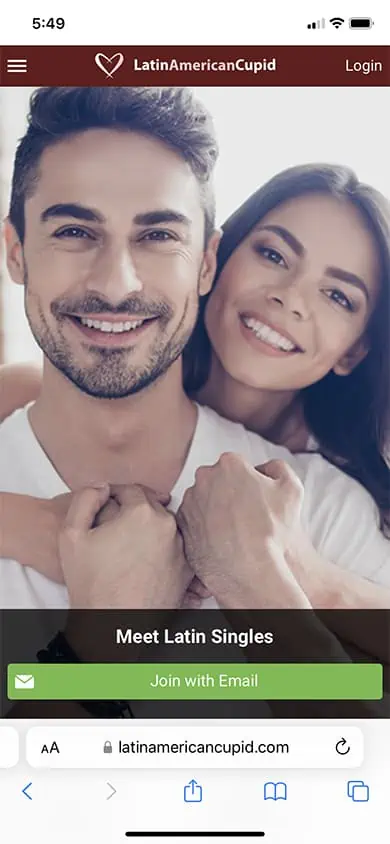 Simply open any online browser, go to the LatinAmericanCupid site, and then click on the green "Join With Email" icon on the page's bottom.
Step 2: Enter Some Basic Info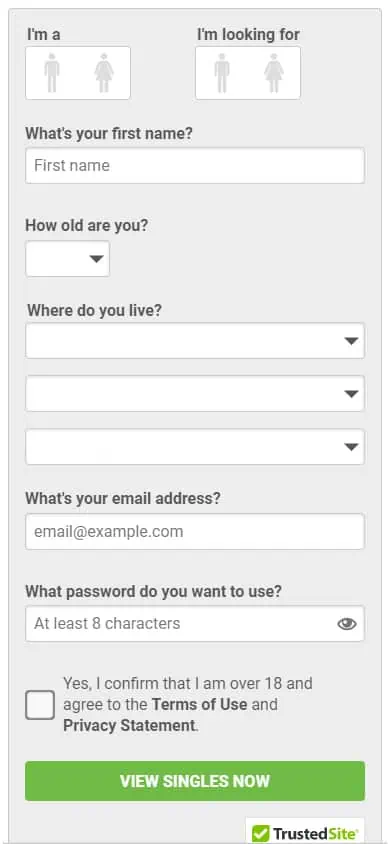 After that, you'll be asked to fill in some personal information, like your gender, age, location, email address, and password of your choosing, to join LatinAmericanCupid. When you're ready to go, a green "View Singles Now" button will appear–click that button!
Step 3: Upload a Profile Photo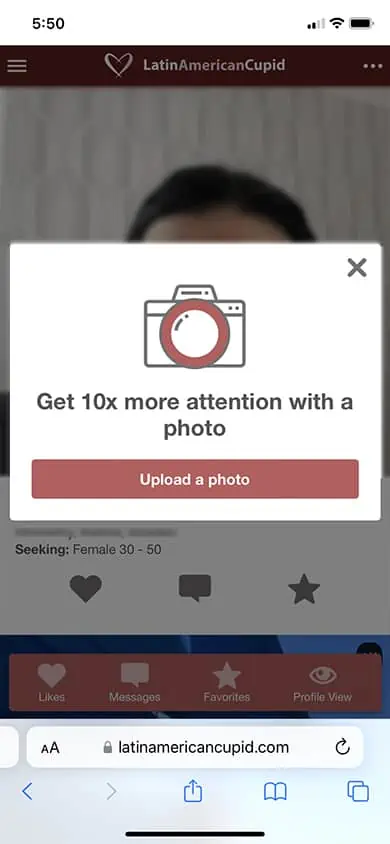 This step is optional, but if you're genuine about finding a partner, you should fill out your profile and include a good profile picture. If you don't, you'll be pestered with a profile completion question every time you use the dating app or do any searches on the platform until you do so. To continue, choose "View My Matches."
Step 4: Start Browsing for Singles!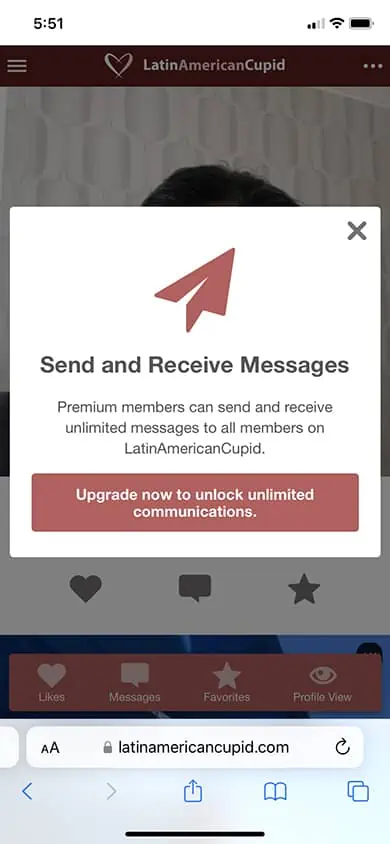 All done! If you're looking for love in Latin America, LatinAmericanCupid is only four steps away! You can now decide between the free basic version and the paid premium version, which allows you to communicate with other users.
Step 5: Finish Building Up Your Profile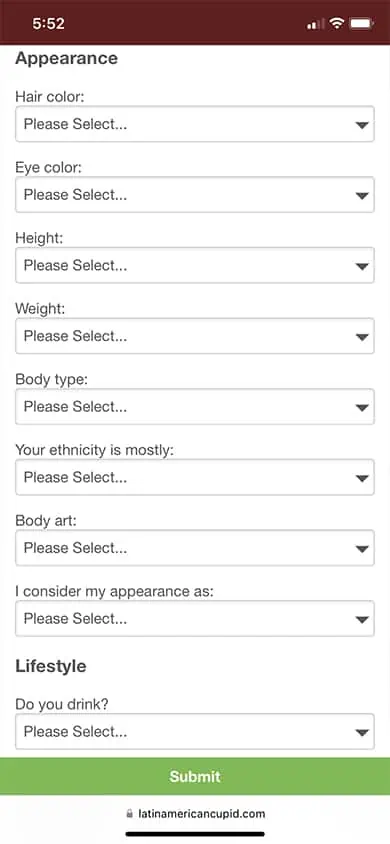 Even though it's not required, we recommend revisiting your profile and filling it up as carefully as possible so that fellow LatinAmericanCupid users can get a sense of who you are. Appearance-related information (eye color, hair color, weight, etc.), relationship status, lifestyle questions, number of children, background, ethnicity, and primary interests are all available through drop-down options.
You can additionally fill out an "About Me" section and a profile heading; for the best results, be as specific as possible in both areas.
How to Delete a LatinAmericanCupid Account
There are a variety of ways to cancel or delete a LatinAmericanCupid account–it just depends on your preference!
Go to your profile settings to cancel your account
Send an email to customer service to cancel your account
Cancel your account by calling customer service
Cancel your account by sending a snail mail to Cupid Media's address
Cancel your membership and account by managing it in the Google Play Store
Step-by-Step Guide to Account Deletion
Visit their website at www.LatinAmericanCupid.com and log in using your email address and password.
Select Profile settings from the menu by clicking on the gear icon in the top right corner.
Keep scrolling down until you see "Switch off profile" and click: "To switch your profile off on LatinAmericanCupid.com, please click here."
Choose an explanation from the list; for example, "I met someone" or "I found my partner via the app" => Submit.
Avoid being distracted by the feedback box in the next step; you must choose the following in the top right corner if you wish to delete your profile without commenting: Click "Continue to switch off."
After typing your password twice, click the "Switch off membership" option.
LatinAmericanCupid Customer Service
Although the LatinAmericanCupid customer service procedure may be challenging to comprehend at first, it is helpful. Visit the settings page, and a window that appears to be a live chat window for customer service will open. Type in your question, and the AI will direct you to the best places to get the information you want.
Utilize the "contact us" link to send an email to the support staff if your problem can't be addressed by looking through the frequently asked questions area; the support team often responds to emails within a few hours.
In addition, you can call the customer service hotline (remember, they are located in Australia, so check the time changes).
How to Contact Customer Service
☎️  Phone Number: +61 7 5571 1181
📧  Email: team@LatinAmericanCupid.com
✉️  Mailing Address: Cupid Media Pty Ltd., PO Box 9304, Gold Coast MC QLD 9726, Australia
LatinAmericanCupid's Mobile App
There is a mobile app for LatinAmericanCupid, and it's free to download from the Google Play Store. The Android version is fully functional and user-friendly, much like the online version–the app's interactivity matches that of its online counterpart. Unfortunately, iOS users cannot access it at this time–the app is exclusive to the Google Play store.
App Features and Functionality
The app is much smaller in size and has a more aesthetically pleasing layout compared to the web version, but this is the only noticeable difference between the mobile app and the website.
Compatibility
Any modern computer, smartphone, or tablet with an internet connection can run LatinAmericanCupid–using LatinAmericanCupid is a breeze as long as there is a web browser installed on your mobile device.
Frequently Asked Questions
When reviewing dating apps, we deliver as much relevant information as possible so we can give our readers the best possible shot at finding love! But in case you still have concerns after reading our LatinAmericanCupid dating app review, we've included a list of the most frequently asked questions below.
Is LatinAmericanCupid a Legit Dating App?
You bet! Cupid Media, a frontrunner in the online dating industry, operates more than 30 specialized dating apps, one of them being LatinAmericanCupid.
Is LatinAmericanCupid a Safe Dating App?
LatinAmericanCupid is a reliable and safe dating app; however, no service can guarantee its customers' total safety. LatinAmericanCupid provides a toll-free hotline and a convenient "report user" choice for those who encounter scam artists, fake profiles, or any other suspicious behavior.
Does LatinAmericanCupid Have a Mobile App?
It does! It's free to download via the Google Play Store, but it's solely compatible with Android devices; as of the time of this review, there is no mobile app for iOS.
Is LatinAmericanCupid a Free Dating App?
Although LatinAmericanCupid's basic version is free to use, more advanced functions and features, such as sending and receiving messages, require a paid subscription.
Is There an LGBTQ+ Community on LatinAmericanCupid?
Yes! All kinds of sexuality and gender identities are accepted at LatinAmericanCupid. Remember that you might find fewer matches since a smaller amount LGBTQ individuals are using this dating app.
What if My Match and I Don't Speak the Same Language?
When you upgrade to Platinum on LatinAmericanCupid, your communications to a potential partner will be instantaneously translated into the other person's language. But keep in mind that this feature is only accessible to Platinum members; Diamond and Gold subscribers must upgrade to Platinum to use this feature.
How Does LatinAmericanCupid's Identity Verification Work?
As part of the identity verification procedure, every dating profile will be examined to ensure its legitimacy and authenticity–all members are required to verify their identities using a government-issued ID.
What Follows the Verification of My Identity?
A verification badge will appear on your Latin American Dating App profile to show that you are legit! When you do so, you'll let the dating community know that your membership is real and that you are who you say you are.
Does LatinAmericanCupid Sell My Information?
No! Your personal information won't be shared or sold by LatinAmericanCupid.
Is It Free to Send Messages to Other Members?
Users of the free version of LatinAmericanCupid can respond to communications sent to them by premium members. Still, they won't be able to begin conversations or send messages like premium members can.
Do You Need A Mobile Phone to Join LatinAmericanCupid?
You do not! Online account creation can be done without giving a cell phone number–this means that everyone can use LatinAmericanCupid to locate the perfect match, regardless of their access to a mobile phone.