You have finally decided to join Elite Singles and are eagerly awaiting your matches. If you want them to be just as impressed by your appearance as you are by theirs, however, you'll need to figure out how to make that happen. Knowing how to create a strong dating profile that stands out is crucial. Nevertheless, having a strong dating profile is essential for maximizing the benefits of online dating–especially on a dating app that caters to the elite.
That's why we will tell you how to attract other ambitious singles by building a solid online presence on the Elite Singles dating app!
The Pursuit of the Strong Dating Profile
Everyone has a strong view on the topic of online dating profiles and what they should (and should not) include. One thing is for sure: vying for attention among millions of app users is no simple feat.
A short perusal of any dating app horror story thread on Reddit will tell you that the pickings are slim, particularly if you don't give yourself the best chance of success. When you only have a few moments to make a lasting impression, how can you best prepare for success in attracting ambitious singles?
Since we are dating experts, we can help you attract more quality dates; try implementing some of these suggestions into your online dating profile's content and photos.
1. Use Realistic Photos and Info
We advise people who use dating apps to stop misrepresenting their weight, age, height, and other insecurities. Deal with your dissatisfaction with your present situation; don't deny or hide it. Be genuine and honest, and you'll go farther–you'll be shocked by how many people really like you for who you are.
Writing a profile with a few harmless lies might be tempting, but here's the deal: it won't last. Any white lies will be exposed once you finally meet face to face. If you want to discover true love via a dating app, it's essential to be yourself and let your online profile speak for itself. If we're going to get very mushy, we'll say that one of the best parts of using Elite Singles is meeting someone who really appreciates you for who you are.
If you lie, you deny others the opportunity to learn the truth and to see the real you.
Don't let white lies prevent you from meeting your soul mate; commit to being truthful while completing your profile. Honesty is always the best policy, and online dating is no exception!
2. Shorten and Simplify Your Profile
Nobody is interested in reading a novel-length account of your life, so choose your words carefully.
Keep in mind that there is a balance to be struck between being overly dry and having your whole profile comprised of jokes while writing a brief and snappy bio. There should be three things you want other singles to know about you from your profile, two things you want to learn about other singles, and one thing you hope to learn about together!
3. Describe Your Hobbies and Passions
Although it's understandable that you wouldn't want to give away too much about yourself, we recommend becoming more specific when describing things like your passions and interests.
Tell other potential matches what you love to do and how you spend your free time. This will help you find more compatible matches when it comes to sharing interests and hobbies.
4. Be Cheerful and Exude Confidence
You will attract people who share your dating app profile's pessimistic outlook on life if it's all negative and showcases things you don't want in a romantic partner.
Instead of concentrating on the stuff that isn't interesting to you or that you dislike, focus on the good. No one really wants to be around someone who starts with negativity right out of the gate.
5. Use the Right Profile Pictures
People aren't just being superficial when it comes to profile images; it's in our DNA to engage with individuals who look real and genuine, so don't be bashful about posting a picture of yourself.
Look, if your profile doesn't include any pictures, no one will give it a second glance. By being anonymous, you are turning away over half of the singles who may otherwise be interested in you.
People on dating apps want to see images because it helps them relate to you as a real person. This is because we can assume some aspects of a person's character by seeing their picture.
Of course, having a picture alone isn't enough; the most sought-after singles on dating apps often avoid the most typical photographic gaffes.
A super revealing photo is a no-no, but other common faux pas include wearing sunglasses, submitting a badly photo-shopped shot, and appearing in many group photos. And contrary to popular belief, selfies aren't universally loathed, but we advise against making them your primary profile photo.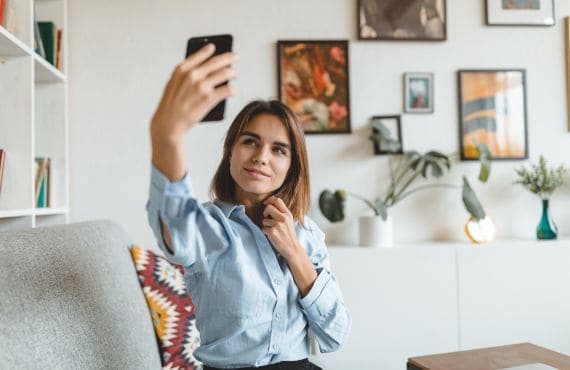 We also recommend including a picture of yourself engaging in a hobby or activity that you like; this might be anything from exploring the outdoors, preparing a meal, or tending to a garden to appreciating art, wine, or even animals. Photos identified with common interests make it simpler for others to strike up a discussion with you.
6. Link Your Social Media Accounts
If a person spends three to thirty seconds on your profile and then clicks on your Facebook or Instagram link in your bio, they will spend even more time with you. Never share your profile from another dating app; doing so will give the impression that you're a serial dater.
Final Thoughts
Make sure your profile is intriguing, amusing, and honest. You need what you show to be memorable, to make a person pause mid-swipe, and to strike a chord to attract other ambitious singles on Elite Singles. 
The kind of person you're looking for may be gleaned from your dating profile, so it's essential to be honest about who you are. Don't be afraid to use your unique voice, intelligence, and authenticity to stand out as the amazing person you are!
While it may be time-consuming, crafting your dating app profile to be pitch-perfect can significantly increase your options and, eventually, your potential for discovering love via online dating.