With Halloween just around the corner, it's time to think about the perfect costume. You did the sexy nurse and the hot maid when you were single, but now you're part of a couple, and it's time to think of costumes for both of you. So first, decide what type of costume you're interested in as a couple. Will it be something that goes together, like ketchup and mustard, or will you each pick your own separate costume? If you decide you'd prefer to go the couple's route, continue reading.
You can visit your local costume store or purchase some options online. Some costumes are simple enough to make yourself with a few materials. So what are you waiting for? With Halloween so close, you need to make a decision, so to help you out, here are a few simple Halloween costumes specifically designed with you and your Hunny in mind. For DIY projects, check online for details.
Sexy Costumes
The Birds and the Bees
I know what you're thinking. How are birds and bees sexy? This option is only under the sexy category because what do you think about when you hear the term "the birds and the bees?" Sex! Yes, literally sex! It's also a simple DIY project.
Here's an idea: if you have a black shirt, pin yellow strips of fabric around it. You can also use a headband with yellow balls for added effect. For the bird, dress in all white and pin a small stuffed bird to the crown of your head. See how easy that was?
Batman and Catwoman
You and your partner can dress up in sexy superhero costumes by making the design your own. While it's easy to create a sexy cat woman (make her as sexy as you prefer), a sexy Batman may require a bit more thought, so use your imagination. Simply being a couple makes these costumes daring and sexy.
7 Sexy Couple's Costumes
You can make these ideas as sexy as you desire or hold back for a more modest style. It's your choice.
Ventriloquist and puppet
Clowns
Cookie Monster and his cookie
Han Solo and Princess Leia
Ken and Barbie
Little Red Riding Hood and the Big Bad Wolf
Willy Wonka and an Oompa Loompa
Last Minute Costumes
Lumberjack and a Tree
Fellas, if you have a flannel shirt, a skull cap, and a pair of jeans, you're ready. The look is even better if you have some boots to go with it. Add a DIY axe as an accessory, which can be created using a yardstick and cardboard. Ladies can wear any brown colored dress, and if you have one, place a lei of fall colors on your head. If you don't have one readily available, check any craft store. Easy, right?
Prom King and Queen
Go to your closet and grab your suit for him, and pick out a dress for her. Create a sash and crown with a leftover piece of material and some cardboard. Put on excessive makeup and nails, fluff up the hair, and have the perfect prom king and queen costume.
9 Last-Minute Costume Ideas
You can make these ideas as sexy as you desire or hold back for a more modest style. It's your choice.
Power couple
The Princess Bride's Westley and Buttercup
Farmers
Pool boy and a tropical drink
Men in Black
Double stuffed Oreo
Pencil and notebook
Musician and groupie
70s hippies
Old-School Costumes
Napoleon Dynamite (Vote for Pedro!)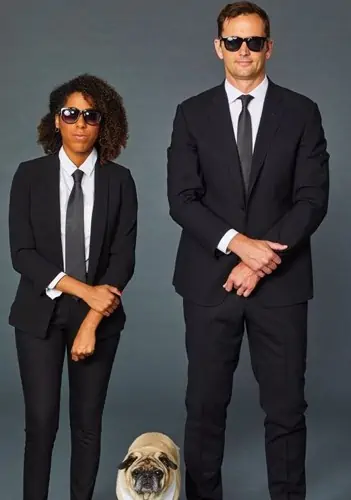 This movie was highly popular in 2004 and came out with plenty of characters to copy, including Pedro, Uncle Rico, Deb, and the titular character himself. Although Napoleon Dynamite was released in 2004 and may not be considered old school just yet, the style of dress of the main characters is very much old-school.
Bonnie and Clyde
This one is a classic, so you should find it in any costume store or online. If you want to create this 1930s style yourself, Clyde should wear a dapper three-piece suit with a tie and a fedora-style hat.
Get Bonnie's classic look with a mid-calf pencil skirt and a fitted sweater (or jacket). Add a stylish beret and thick-heeled shoes, and you're ready to go.
6 Classic Couple Costumes (Try Saying That Fast Five Times)
You can make these ideas as sexy as you desire or hold back for a more modest style. It's your choice.
Sandy and Danny (Grease)
Stephanie and Michael (Grease 2)
Vincent Vega and Mia Wallace (Pulp Fiction)
Edward Lewis and Vivian Ward (Pretty Woman)
Mary Poppins and Bert (Mary Poppins)
Tony and Maria (West Side Story)
Even More Couple Costume Ideas
Humorous
A Dunkin' Donut and a cup of joe
This is an excellent choice for food lovers. The best part is that you can make it yourself with cardboard. So take your costume to the next level and even hand out donuts and coffee to party guests.
A bottle of mustard and a bottle of ketchup
Again, this is a perfect choice for a foodie. You can make this type of costume at home or purchase it online. Relish or mayonnaise, as one of the options, works just as well.
Hot dog and hamburger
These hilarious costumes are great because people always compare the two, asking which you like better. Now you don't have to choose because you can have both. Add extras like cheese, pickles, lettuce, and onions for a more creative spin.
Pizza and beer
C'mon, is any explanation even really needed here?
TV Shows/Movies
Bojack Horseman and Princess Carolyn (Bojack Horseman)
If you're not a fan of the hysterically funny adult animation show, Bojack Horseman, get on it! Bojack and Princess Carolyn are the perfect choices for couples.
Gomez and Morticia Addams (The Addams Family)
This is the perfect costume if you're a fan of classic television. Plus, you're already halfway there if you have a black suit and a black dress. So grab a straight black wig, put on some black eyeliner and red lipstick, and you are ready to go.
Famous Couples
John Lennon and Yoko Ono
Check mom and dad's closets for one of her short mini-dresses and go-go boots. If you can't find one, thrift stores carry plenty of 70s styles of clothing. Add a wig (unless you already have long hair) and a floppy hat for Yoko. A pair of round spectacle hippy glasses round out John's look perfectly.
Beyonce and Jay-Z
How do you dress up as one of the most famous couples on the planet? Pick any fashionable photo of the two (that's pretty much any photo of the two) and replicate their style. Add makeup, jewelry, and wigs for a more dramatic touch.
Offensive Costumes
Whichever costume you choose, be respectful. Every year, it seems someone decides on a controversial costume and dampens the mood of the entire holiday.
If you're unsure, ask around. A good rule of thumb is that if you seem to be the only one laughing, it ain't funny. Oh, and FYI, Trump isn't a great choice either.
Some disrespectful costumes include:
Blackface
This is never, ever, ever okay. Never under any circumstance. The act of painting your face a darker shade than your natural skin tone goes way beyond disrespectful. For years, other races stereotypically painted their faces black as a form of ridicule and entertainment. It wasn't acceptable then, and it isn't today.
Dressing up in clothes that reinforce racial stereotypes is another NO! Acting like another race using certain gestures and language (even without the face painted black) is another form of blackface, so don't do it.
Triggering Costumes
Costumes with an emotional stigma attached to them are not a good choice. These choices include dressing up as a:
KKK member
Hitler
Holocaust victims
A prisoner
Murder victims
Serial Killers
I'm not sure why anyone would think dressing up as someone who murdered several people in cold blood would be wise, but it happens anyway. So steer clear of all the Ted Bundy, Jeffrey Dahmer, and Unabomber costumes.
Stereotypical Disney Characters
The characters may have been your favorites at one point, but they aren't racially sensitive today. While Cinderella and Sleeping Beauty are still popular costumes, other characters like Moana and Sebastian from The Little Mermaid are not considered wise choices.
If you aren't black, dressing up as Tiana from The Princess and the Frog is still okay. However, as stated above, DO NOT USE BLACKFACE. The same goes for Cinderella. Likewise, if you are not white, it's okay to dress as a princess. However, there is no need to paint your face white. Why not dress up as your own version of the princess anyway?
Body Shaming Costume
Do not disrespect women by objectifying them in a fat suit costume with a wig. Any outfit that makes fun of a person's size is insensitive. While we're at it, walking around like a Sumo wrestler is not the best choice either.
Transphobic Costumes
You may remember movies like Tootsie with Dustin Hoffman or shows like Bosom Buddies with Tom Hanks. In 1993, the movie Mrs. Doubtfire was the #1 box office smash hit. And don't forget Big Momma's House with Martin Lawrence. So what do these movies and shows have in common? The male lead dressed as a woman (usually overweight) and received plenty of laughs for doing so.
Today, these types of costumes are considered transphobic because they make fun of a marginalized group of people. Even recently, Wal-Mart had to pull their "tranny granny" costume due to its offensive nature.
Covid19
Do not show up at the party in a pandemic costume that killed over a million people. Halloween is supposed to be fun, so people do not want to be reminded of a horrible tragedy that continues to impact people's lives. Resist the temptation to dress up in any form of a HAZMAT material suit.
Other Costumes to Avoid
Terrorist
Mentally ill patient
A homeless person
Deceased celebrities in zombie form
Any political statement (Black Lives Matter, Blue Lives Matter)
Final Thoughts
As a kid, dressing up for Halloween was so exciting. As an adult, it's even more thrilling, especially as one-half of a couple.
Halloween should be fun, so don't ruin the holiday by being insensitive when there are plenty of acceptable couple ensembles to choose from. Instead, find an entertaining yet socially conscious costume and watch everyone have a good time. Happy Halloween!